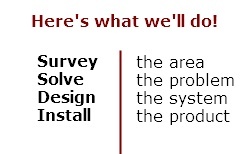 We remain committed to supplying our customers with the knowledge, Expertise and Experience that comes from being pioneers in the marking, coding and packaging industry.
For over 50 years we have been supplying Marking, Coding and Packing solutions. We began selling Roll Coders, then moved on to stencil machines. JC Edwards & Son, Inc. was on the ground floor of the ink jet revolution. Installing some of the first Marsh brand Ink Jet Systems on the market. Our experienced factory trained technical specialists are available to assist and support all your marking needs. From the start of the planning process, to the installation, all the way thru the servicing your equipment! When we say "If you Mark it... We can help!" rest assured that we mean it and we will deliver.
For additional information or assistance with your coding equipment requirements, contact 309-692-5050 For More Information or to get a Quote.